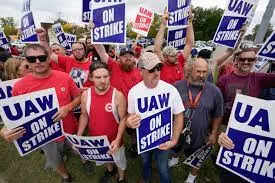 NEW YORK – Wall Street closed out its worst week in a month with more losses. The S&P 500 fell 1.3% Friday. The Dow lost 286 points, and the Nasdaq composite dropped 1.5%. The stock market has been under pressure from the bond market, where the yield on the 10-year Treasury briefly touched 5% Thursday evening for the first time since 2007. High yields make borrowing more expensive for everyone, and they slow the economy while dragging on investment prices. The 10-year yield eased Friday, but only after hanging near 4.99% in the morning. Crude oil prices fluctuated, and gold's price rose. Head of auto workers union says strikes will continue in drive to gain better offers from companies
DETROIT (AP) – United Auto Workers President Shawn Fain said Friday that while Detroit's automakers have increased their wage and benefit offers, he believes the union can gain more if it holds out longer in its contract talks. In a Facebook Live appearance, Fain didn't announce any more factories to add to those that have been on strike for up to five weeks. But he warned that the UAW could announce such an expansion of its strikes at any time, depending on how much progress it makes in its negotiations with the automakers.
Long lines at gas pump unlikely, but Middle East crisis could disrupt oil supplies, raise prices
WASHINGTON (AP) – Fifty years after the 1973 Arab oil embargo, the current crisis in the Middle East has the potential to disrupt global oil supplies and raise prices. But don't expect a repeat of the catastrophic price hikes and long lines at the gasoline pump, experts say. The head of the International Energy Agency said the latest Israel-Hamas war is "definitely not good news" for oil markets already stretched by cutbacks in oil production from Saudi Arabia and Russia and expected stronger demand from China.
Can the new film 'Uncharitable' change people's minds about overhead at nonprofits?
NEW YORK (AP) – A new documentary "Uncharitable," from "Paris Trout" and "Losing Isaiah" director Stephen Gyllenhaal, puts the long-running debate in the nonprofit sector over the role of overhead back in the spotlight. It tells the story of longtime advocate Dan Pallotta, who pioneered the idea of fundraising through bike rides and road races initially to raise money for AIDS and cancer research. Pallotta has long argued that nonprofits are unfairly pressured to cut salaries, lower operating costs and delay long term investments, which all degrade organizations' abilities to accomplish their missions. For almost twenty years, researchers and nonprofits have warned about the negative consequences of starving nonprofits of general operating expenses, also known as overhead.
Gale-force winds and floods strike northern Europe. At least 3 people killed in the UK
COPENHAGEN, Denmark (AP) – Gale-force winds and floods have struck several countries in northern Europe as the region endures more heavy rain that forecasters say will continue into the weekend. At least three people have been reported dead, two in Scotland and one in England. A plane in the north of England steered off the runway amid worsening conditions. The U.K.'s weather forecaster issued a new "red" warning for parts of eastern Scotland for further flooding throughout Saturday. The winds are expected to hit hardest in the eastern part of Denmark's Jutland peninsula and the Danish islands in the Baltic Sea.
Scholz says that Germany needs to expand deportations of rejected asylum-seekers
BERLIN (AP) – Chancellor Olaf Scholz says Germany needs to start deporting "on a large scale" migrants who don't have the right to stay in the country, adding to increasingly tough talk on migration since his coalition performed badly in two state elections earlier this month. Scholz's comments were published Friday, as a leading German opposition figure called for the center-left chancellor to dump his quarrelsome coalition partners and instead form a government with conservatives to deal with migration issues. Scholz has signaled an increased desire to take personal charge of migration over the past two weeks, following a pair of regional elections in which voters punished his three-party coalition.
NTSB says FedEx plane with a disabled landing gear had suffered a leak of hydraulic fluid
Investigators say they found a leak of hydraulic fluid in the landing gear system on a FedEx plane that was forced to make an emergency landing this month in Chattanooga, Tennessee. The National Transportation Safety Board said in a preliminary report Friday that investigators also found a "discontinuity" in the wiring of an alternate system for lowering the landing gear. Pilots of the FedEx Boeing 757 were able to land the plane but ran off the end of the runway on Oct. 4 in Chattanooga. None of the three crew members were injured.
The S&P 500 fell 53.84 points, or 1.3%, to 4,224.16. The Dow Jones Industrial Average fell 286.89 points, or 0.9%, to 33,127.28. The Nasdaq composite fell 202.37 points, or 1.5%, to 12,983.81. The Russell 2000 index of smaller companies fell 21.91 points, or 1.3% to 1,680.79.